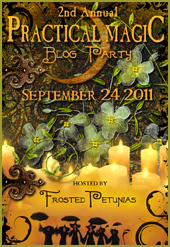 This kind of party is right up my autumnal whimsical alley. A party to celebrate a sweet and magical movie. What fun, and thanks to our hostess Anna of Frosted Petunias!
Where to begin? Let's start with the blue and green eyes. Did you know that I have green eyes?
All of my sons have blue eyes. When we are all together, that would be eight big blue eyes looking at me.
My daughter has green/hazel eyes, so we are very colorful when all together.
Sally's love interest in the movie has one of each. Very interesting and kind of intense. I once knew a girl with one blue and one brown eye and it was so beautiful!
I adore roses - growing, cutting, smelling, and even giving it to my daughter as her middle name. Kind of spooky to have a rose growing on an arbor be something evil...
If my roses would grow that quickly, I would plant Jimmy as compost.
And speaking of Jimmy, he liked his tequila didn't he?
Actually, I think the ladies had a very good idea with the blender of margaritas. Who knows, I may treat myself to one tonight - after all, it is a Friday.
I also have to agree with the ladies when it comes to bee's wax candles. Nothing can compare to the color and fragrance.
I decided to add a little
to my candle cookies so they were sprinkled with disco dust and the center of the flames was cut out and filled with melted yellow hard candy to make a stained glass flame.
The sparkle and warm glow makes them come alive.
Who needs a snickerdoodle when you can have a magical candle cookie?
I guess I will have to get my stockings on for the festivities.
I'll also need to light some candles, and send special wishes to the other magical party goers.
I think my oven was pretty enchanted today, don't you?
Flying my practical magic over to
My Romantic Home
Between Naps on the Porch
Nest of Posies fall festival
Savvy Southern Style
Sweetology 101
A Stroll Thru Life Tabletop Tuesday
The Tablescaper
Sunday Showcase