Step right in to le Mysterieux Carnival party!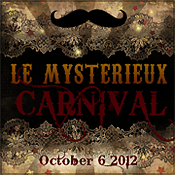 Here at the enchanted oven, the carnival starts at midnight. The lights begin to glow and the bats begin their swooping flight.
Because this is a carnival with a Halloween twist, there is an interesting cast of characters. Mr. Jack O'Clown sells the popcorn (don't worry, it all has extra butter).
Miss Witch takes tickets, and Mr. White gives tours of the graveyard. And if you need anything, Mr. Corpse can give you a hand.
If you are brave enough, step inside for magical acts and treats galore.
If you don't want popcorn, or candy apples, or cotton candy, well, you can just eat the whole haunted carnival because this is one
Thanks to Anna from Frosted Petunias for hosting this magical party!